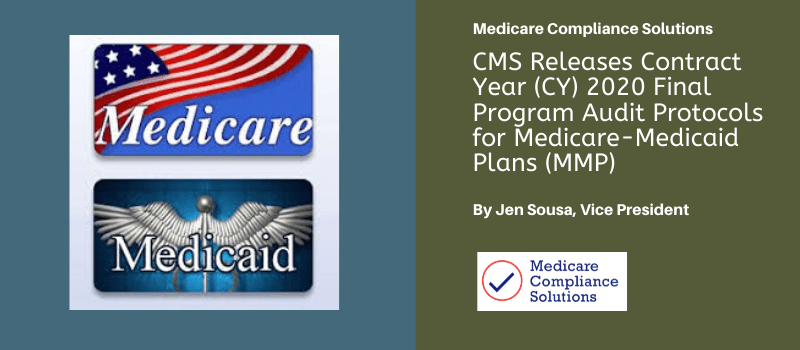 CMS Releases Contract Year (CY) 2020 Final Program Audit Protocols for Medicare-Medicaid Plans (MMP)
By Jen Sousa, Vice President
CMS issued draft 2020 MMP Audit protocols on January 2, 2020 and allowed the industry a 30-day comment period. On January 9, 2020, the CCQIPE Supplemental Questionnaire was provided for comment (it was excluded from the original package of materials). CMS received 26 comments from 8 MMPs and MA Plan Sponsors that were combined into 20 unique comments. CMS reviewed and considered all submitted comments, and based on this feedback, incorporated a number of changes to the SARAG protocol and one change to the CCQIPE Supplemental Questionnaire.
Medicare Compliance Solutions (MCS) high-level summary is below.
CCQIPE
No changes were made to the MMP-CCQIPE Audit Process and Data Request protocol released for comment on January 2, 2020.
Clarification was added to question 1 of the CCQIPE Supplemental Questionnaire to explain the level of detail CMS requires for the list of staff responsible for administering the HRA and developing ICPs with members. Additionally, CMS added flexibility to allow for alternative formats for the requested information.
SARAG
The majority of the changes were clarifications. For example, there were field name descriptions in the draft protocol that were incomplete and CMS added the complete language, they corrected the Field Length in some of the record layouts, and they updated field descriptions to use consistent terminology.
CMS removed the "NA" response option and updated the Field Length for Table 1: MSSAR (Column N), Table 2: MESAR (Column N), Table 4: MSPLA (Columns O and Y) and Table 5: MEPLA (Columns O and AE)
Table 5: MEPLA (Column O) Description was corrected to reference "appeal decision" instead of "service authorization decision".
Clarifying language was added to the Description in Table 5: MEPLA (Column AA): Answer NA if the request was approved or not forwarded to the IRE/IAOH.
For Tables 1-8, CMS removed contradictory terminology from the Diagnosis field description.
Although CMS did not make many changes to the draft protocols based on comments received, the draft protocols included significant changes from the 2018 protocols. Click here for more information on these changes.
The most important advice that we can give you is to develop and test your universes NOW – Don't wait for CMS to announce an audit to start! MCS has a team of industry experts that are ready to help your team develop and test universes and conduct mock audits so that you are prepared when CMS knocks on your door. Although CMS previously announced that they were suspending program audits for 2020 due to the COVID-19 pandemic, they recently stated that they are considering options for modifying the timing and scope of the 2020 program audits in order to complete them later this year. MCS can help you be audit ready!