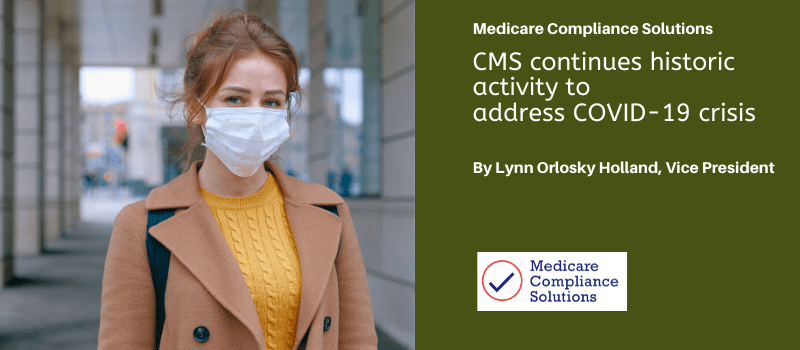 CMS continues historic activity to address COVID-19 crisis
By Lynn Orlosky Holland, Vice President
CMS continues to take critical steps and issue important guidance on the unfolding pandemic.  Unprecedented flexibilities have been extended in the healthcare space to give providers necessary resources and support to meet the care delivery demands, at the same time allowing providers to focus efforts on care delivery by delaying or suspending data reporting and collections when needed. CMS also recently announced that it has delivered nearly $34 billion over the past week to healthcare providers battling COVID-19 through the expansion of the Accelerated and Advance Payment program.
Since our last blog entry was written, CMS has communicated on several new efforts resource documents and held additional stakeholder calls, including the following:
Suspending most 2020 Data Validation of Medicare Part C and Part D Reporting requirements – CMS announced it is suspending the 2020 data validation activities for 2019 Part C and D reporting requirements, with the exception of SNP Care Management and Part D Medication Therapy Management (MTM). In addition, CMS recommended that any data validation activities that occur be done remotely. (HPMS memo, 4/13/20)

Expanded coverage for essential diagnostic services – The administration announced guidance implementing the recently enacted Families First Coronavirus Response Act (FFCRA) and Coronavirus Aid, Relief, and Economic Security (CARES) Act, which require that private health issuers and employer group health plans cover COVID-19 testing and certain related items and services furnished during the COVID-19 pandemic, with no out-of-pocket expenses.  See the detailed set of Frequently Asked Questions to learn more about these legislative initiatives. (HPMS memo, 4/13/20)

Efforts to Maximize Frontline Healthcare Workforces – CMS communicated Trump administration actions to ensure U.S. health care facilities can maximize frontline workforces to confront COVID-19 crisis. The new waivers expand the workforce flexibilities CMS announced on March 30. See CMS' fact sheet detailing additional information on the waivers announced today and previously. (HPMS memo, 4/10/20) 
Applicability of Diagnosis from Telehealth Services for Risk adjustment – CMS clarified details on telehealth submissions, specifically that MA and other organizations submitting diagnoses for risk adjusted payment are able to submit when those visits meet all criteria for risk adjustment eligibility. Diagnoses resulting from telehealth services can meet the risk adjustment face-to-face requirement when services are provided using an interactive audio and video telecommunications system that permits real-time interactive communication. (HPMS memo, 4/10/20)
New "mailbox" set up to answer COVID-19 questions from MA and Cost plans – CMS encourages MA organizations and cost plans to submit any MAO and cost plan COVID-19 policy and benefit related questions to the newly established mailbox. CMS encourages plans to review the available resources in the COVID-19 mailbox before submitting a question.  Here is the link to the new mailbox : https://MA-COVID19-policybenefits.lmi.org
New Wave of Infection Control Guidance – CMS issued new guidance based on CDC guidance to protect patients and healthcare workers from COVID-19 in both inpatient and outpatient settings. (HPMS memo, 4/8/20)
Recommendations on Non-Emergent, Elective Medical Services and Treatment – CMS issued an updated set of recommendations to postpone non-essential surgeries and other procedures to conserve critical healthcare resources and limit exposure of patients and staff to COVID-19. (HPMS memo, 4/7/20) 
Dear Clinician Letter – CMS issued a communication to all clinicians sharing clinical information and resources, ensuring clinicians are provided with maximum flexibility to reduce unnecessary barriers to provide patient care during this outbreak. Click here to see the communication, which includes information about telehealth and virtual visits, accelerated and advanced payments, and recent waiver information. (HPMS memo, 4/7/20)
CMS Approves Additional State Medicaid Waivers and Amendments to Give States Flexibility to Address Coronavirus Pandemic – CMS continues to issue Medicaid waivers, also providing checklists, tools and other resources to assist States in the various processes. To date, CMS has approved emergency waivers to 49 states, plus the District of Columbia, the U.S. Virgin Islands, Puerto Rico and the Commonwealth of the Northern Mariana Islands.
Guidance for Processing Attestations from Ambulatory Surgical Centers (ASCs) enrolling as hospitals during Covid-19 – CMS provided needed flexibility to hospitals to ensure they have the ability to expand capacity and to treat patients. Click this link for the guidance issued by CMS on April 3, 2020. CMS is allowing Medicare certified ASCs to temporarily enroll as hospitals and to provide hospital services to help with the urgent need to increase hospital capacity to take care of patients. This is part of set of blanket waivers that CMS issued for health care providers.  (HPMS memo, 4/4/20)
Notification of PDE ID Editing & States of Emergencies – Due to the COVID-19 situation, CMS is using its enforcement discretion to allow pharmacists to authorize emergency refills when prescribers are not available to provide refill renewal prescriptions. As a result, CMS is permitting PDE submissions indicating the pharmacy is the prescriber during this declared state of emergency. (HPMS memo, 4/3/20)
Trump Administration Issues Key recommendations to Nursing Homes, State & Local Governments – On April 3, at the direction of the President, CMS, in consultation with the Centers for Disease Control and Prevention (CDC), issued critical recommendations to state and local governments, as well as nursing homes, to help mitigate the spread of COVID-19 in nursing homes. The recommendations build on and strengthen recent guidance from CMS and the CDC related to effective implementation of longstanding infection control procedures. (HPMS memo, 4/3/20)

CMS Stakeholder Calls – CMS has been hosting regular calls with a variety of clinicians, hospitals, and other facilities in an effort to keep stakeholders updated on our COVID-19 efforts:
 
° CMS has provided links to recordings and transcripts for each of the calls on the following link:https://www.cms.gov/Outreach-and-Education/Outreach/OpenDoorForums/PodcastAndTranscripts.
° CMS hosted a live Medicare Learning Event on April 7, 2020 to discuss recent CMS actions taken to address the COVID-19 public health emergency. Here is a link to the presentation from that call.
° Lessons from the Front Lines: On April 3, CMS hosted a call discussing COVID-19 Flexibilities with CMS Administrator Seema Verma, Deborah Birx, MD, White House Coronavirus Task Force, and officials from the FDA, CDC, and FEMA. Several physician guests presented best practices from their COVID-19 experiences. You can listen to the conversation here.
CMS provides general information & updates, resources and other critical links, on their current emergencies website, including guidance for the specific areas:
Clinical and technical for all healthcare providers, healthcare facilities, labs and PACE;
Billing and coding;
Survey and certification;
Coverage;
Provider enrollment; and
Medicaid & CHIP.
CMS continues to issue updates on a near daily basis, so check the CMS website frequently to stay abreast on ongoing efforts.