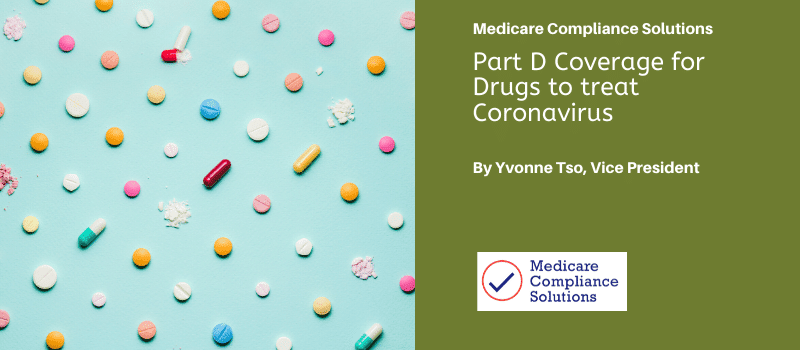 Part D Coverage for Drugs to treat Coronavirus
By Yvonne Tso, Vice President
Part D Coverage for Drugs to treat Coronavirus
As fear for the pandemic caused by the coronavirus (or COVID 19) continues, some questions inevitably come to the fore. Medicare Compliance Solution would like to provide you with the below information for your Call Center or Client Support team as it relates to coverage for treatment of the coronavirus infection.
Q. Drugs used to treat COVID 19 – are they covered under Part D? Do I have copayment or cost share for the drug treatment?
A. There is currently no drug treatment for COVID 19 approved by the Food and Drug Administration (FDA). There is also not a vaccine against the virus. The media have reported some existing drugs being tried to shorten the duration of the infection and lessen the symptoms. Based on experience during the SARS (severe acute respiratory syndrome) epidemic in 2002-2003, chloroquine, an anti-malaria agent, was used and demonstrated effectiveness in shortening hospital stay for those suffering from SARS. Hydroxychloroquine, a related product, is being tried as an experimental drug for treatment and prophylaxis against the infection. Another drug circulating in the media is Kaletra® (ritonavir/lopinavir), a combination drug approved to treat HIV/AIDS in conjunction with other agents. A third drug used to treat Ebola is remdesivir that has also shown some success in treating a limited sample of patients diagnosed to have COVID 19. However, remdesivir is not licensed in the US although it is undergoing clinical trials in and outside the US. To be eligible for Part D coverage, a drug has to be used for the medically accepted indication(s) (MAI) approved by the FDA. Off-label use of a drug is acceptable provided the drug is listed in one of the compendia found in section 1927(g)(1)(B)(i) of the Act: American Hospital Formulary Service Drug Information, and DRUGDEX® Information System. However, the aforementioned drugs are likely on the Part D formularies with no restrictions, namely chloroquine, hydroxychloroquine and Kaletra®. The actual indication for the drug may not be immediately identifiable except in retrospective drug utilization review by the drug plan when a surge in claims for the drug(s) became noticeable. The aforementioned drugs would likely have copayments or cost-share depending on the drug plan's benefit design. Of note, various drugs that work on the body's immune system are being used to treat patients in the acute phases of the infection but they are all used in the inpatient setting under supervision of physicians.
Q. What treatments are covered by my Medicare benefits if I were infected by the coronavirus?
A. In an FAQ published on March 12, 2020, CMS explained the coverage of treatments for COVID 19 – under the Affordable Care Act, Essential Health Benefits (EHB) include hospitalization and laboratory services. Testing for COVID-19 is covered under Medicare Part B when it is ordered by a health care provider, and if the test was ordered after February 4, 2020, Medicare Advantage (MA) plans are required to cover all Medicare Part A and Part B services, including COVID-19 testing. A provision in the Families First Coronavirus Response Act eliminates beneficiary cost sharing for COVID-19 testing-related services, including the associated physician visit or other outpatient visit (such as hospital observation, E-visit, or emergency department services). The law also eliminates cost sharing for MA enrollees for both the COVID-19 test and testing-related services, and prohibits the use of prior authorization or other utilization management requirements for these services. Medically necessary isolation and quarantine required by and under the supervision of a medical provider during a hospital admission are generally covered as EHB. Quarantine outside of a hospital setting, such as a home, is not a medical benefit, nor is it required as EHB. CMS has expanded telehealth benefits using its new waiver authority included in the Coronavirus Preparedness and Response Supplemental Appropriations Act (and as amended by the CARES Act). The waiver, effective for services starting on March 6, 2020, allows beneficiaries in any geographic area to receive telehealth services; allows beneficiaries to remain in their homes for telehealth visits reimbursed by Medicare; allows telehealth visits to be delivered via smartphone with real-time audio/video interactive capabilities in lieu of other equipment; and removes the requirement that providers of telehealth services have treated the beneficiary receiving these services in the last three years. A separate provision in the CARES Act allows federally qualified health centers and rural health clinics to provide telehealth services to Medicare beneficiaries during the COVID-19 emergency period. Telehealth services are not limited to COVID-19 related services, and can include regular office visits, mental health counseling, and preventive health screenings.
MA plans have flexibility to waive certain requirements with regard to coverage and cost sharing during the period of declared disaster or emergency, such as the COVID-19 outbreak. CMS has advised plans that they may waive or reduce cost sharing for telehealth services, as long as plans do this uniformly for all similarly situated enrollees. For out-of-network services, MA plans should charge members not more than what they would pay at an in-network facility.
This is not a good time to visit the Emergency Room where waiting time may be extraordinarily long and "social distancing", as recommended by the CDC (six feet apart), is not feasible. Ask your members to contact the plan (Call Center, Nurse Hotline, Care Coordinator or whatever resource is used by your plan) if the member feels he or she has symptoms of the coronavirus. We suggest you prepare your internal resources with the above regulatory information and any other information deemed necessary to protect your elderly members and help them through this crisis.
Yvonne Tso, Vice President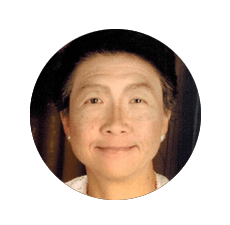 Yvonne Tso, Pharm.D., MBA, is a Vice President at Medicare Compliance Solutions. Yvonne has been in the managed care industry for over 10 years and advises health plans and investment firms on Medicare, Medicaid and managed care operational and compliance processes. Since 2005, the transition year prior to launch of the Medicare prescription drug program (Part D), Yvonne has supported drug plan clients in developing their formularies, competitive benefit designs, Star measure monitoring, utilization management (UM) guidelines and quality improvement (QI) programs.