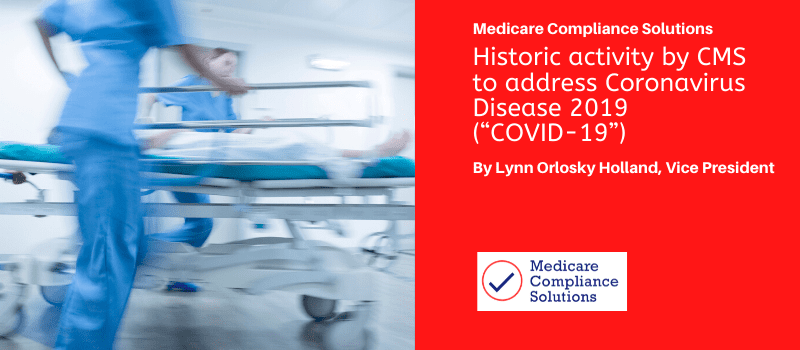 Historic activity by CMS to address Coronavirus Disease 2019 ("COVID-19")
By Lynn Orlosky Holland, Vice President
As the nation faces the COVID-19 pandemic, CMS has taken an historic number of actions to ensure that health plans, providers, and others in the Medicare community are provided with the infrastructure, processes and other critical relief to dedicate appropriate resources strategically to combat the COVID pandemic.
Starting with the Presidential national emergency declaration on March 13, 2020, CMS acted swiftly to put in place various strategies to address the crisis. Early guidance reminded plans  of existing flexibilities that they are required to implement during disasters, such as needing to provide coverage of Parts A, B, and supplemental services at non-contracted facilities, provide services at the same cost share as a plan-contracted facility, and waiving gatekeeper referrals (when applicable) and certain prior authorization requirements.
However, much more has been required to address this unprecedented epidemic.  CMS has risen to the occasion, utilizing its authority under Section 1135 to establish flexibilities with provider enrollment and participation and approving an extraordinary number Medicaid waiver requests from States (35 State requests as of this writing), offering significant expansion and flexibility of telehealth strategies, waiving or reducing cost shares, connecting with the nation's hospitals to gather critical data, and temporarily reducing administrative burdens for providers and plans, so care can be focused on patients needing care.
The following provides high-level details of significant steps taken by CMS to address this pandemic: (Note: This list is not meant to be exhaustive and it changes almost daily. For more details, visit the CMS and other links provided at the end of this article):
Telehealth – CMS announced a variety of flexibilities to expand the coverage of Medicare telehealth benefits to allow beneficiaries to receive a wider range of healthcare services from their doctors without having to travel to a healthcare facility. As a result, CMS will pay for more than 80 additional services when furnished via telehealth.
Provider enrollment flexibilities: CMS has established several methods to streamline the provider enrollment process, including establishment of a toll-free hotline for enrollment and to receive temporary Medicare billing privileges, waiver of certain screening requirements, and an expedited application process. For more info, see the CMS FAQ on these flexibilities:
https://www.cms.gov/files/document/provider-enrollment-relief-faqs-covid-19.pdf
1135 waivers – CMS tapped into the 1135 authority to establish numerous waivers and flexibilities:
State Medicaid: CMS has expeditiously approved 1135 Medicaid waiver requests by States, bringing the current total to 35 as of the writing of this article. These waivers offer states new flexibilities to focus their resources on combating the outbreak and provide the best possible care to their Medicaid beneficiaries. All
"Blanket waivers" for healthcare providers – Numerous other "blanket" waivers have been issued through this mechanism. These are in effect for all providers and do not need an additional request, with a retroactive effective date of March 1, 2020 through the end of the emergency declaration.
Click here for more details on the extensive flexibilities created from 1135:
https://www.cms.gov/files/document/summary-covid-19-emergency-declaration-waivers.pdf
Nursing home guidance: CMS also established new measures for nursing homes, directing nursing homes to significantly restrict visitors and nonessential personnel, as well as restrict communal activities inside nursing homes.
Delay of elective surgeries, non-essential procedures and dental services: CMS recommends all elective surgeries, non-essential medical, surgical, and dental procedures be delayed during the COVID-19 outbreak.
Part D guidance: CMS has also provided several flexibilities for Part D plans, including:

Ability to relax "refill too soon" edits and provide maximum extended supply;
Reimburse members for prescriptions filled at out-of-network pharmacies;
Permit sponsors to relax plan-imposed policies on home or mail order delivery; and
Encourage plans, and their contractors ("FDRs") to establish and identify ways to minimize face-to-face contact for medication delivery or dispensing.
Administration announces sweeping new changes: CMS recently issued several other temporary changes that will apply immediately across the entire U.S. healthcare system for the duration of the emergency declaration.
Increasing Hospital Capacity: Immediate flexibility to permit healthcare systems and hospitals to provide services in locations beyond their existing facilities to help address the need to expand capacity and to develop sites dedicated to COVID-19 treatment.
Rapid Expansion of the Healthcare Workforce: Several provisions have been established, including a blanket waiver to allow hospitals to provide benefits and support to their medical staffs, making it easier for providers to enroll in Medicare, help teaching hospitals quickly expand their workforce, allow medical residents to provide services under the direction of the teaching physician, and permitting wider use of verbal orders rather than written orders by hospital doctors.
Temporarily eliminate certain administrative requirements to allow providers to focus time on patients (i.e. Patients over paperwork"). CMS is temporarily eliminating several paperwork requirements to allow clinicians to spend more time with patients. These include suspending requests for additional information from providers healthcare facilities, MA and Part D plans, and States; not requiring hospitals to have written policies on processes and visitation of patients who are in COVID-19 isolation; and "reprioritizing" scheduled MA and Part D program audits. Such changes will allow CMS and the organizations to focus on patient care.
Most recently, the President signed the "Coronavirus Aid, Relief, and Economic Security" ("CARES") Act into law on March 27, 2020. In addition to this being the largest relief bill in U.S. history (approximately $2 billion), there are several additional Medicare provisions included in this bill.  We expect to see more from CMS on these provisions in the near future, but in the meantime, some of the provisions include:
requiring all COVID-19 testing to be covered without member cost share by insurance plans;
coverage of COVID-19 vaccine under Part B without cost share (if/when available);
ensure access to fills and refills for covered Part D drugs for up to a 3-month supply;
continued support for expansion of telehealth flexibilities during the emergency period;
inpatient hospitalization add-on for COVID patients during emergency period; and
revised payment rates for DME during emergency period.
As the COVID-19 situation continues to unfold, check out the links below to get the most up to date CMS announcements and guidance on the work CMS is doing in response to COVID-19, including additional guidance on the CARES Act.
 Important links, FAQs and information:
For information specific to CMS, please visit the CMS Newsroom  and Current Emergencies Website To keep up with the important work the White House Task Force is doing in response to COVID-19, click here www.coronavirus.gov
https://www.cdc.gov/coronavirus/2019-ncov/index.html
https://www.cms.gov/files/document/covid19-emergency-declaration-health-care-providers-fact-sheet.pdf
https://www.cms.gov/files/document/summary-covid-19-emergency-declaration-waivers.pdf
https://www.cms.gov/files/document/provider-enrollment-relief-faqs-covid-19.pdf
https://www.cms.gov/outreach-education/partner-resources/coronavirus-covid-19-partner-toolkit