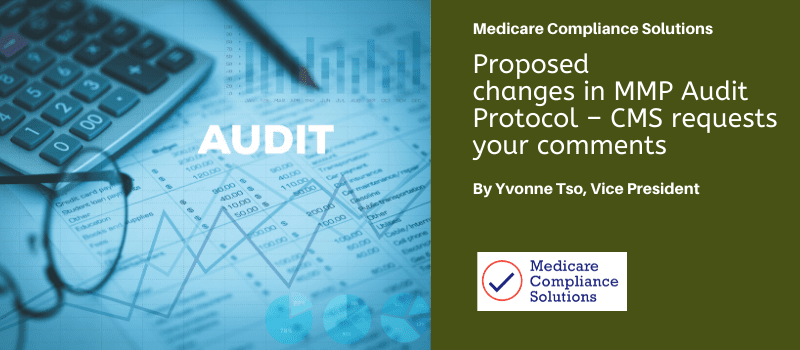 Proposed changes in MMP Audit Protocol – CMS requests your comments
By Yvonne Tso, Vice President
In 2011, the Medicare-Medicaid Coordination Office (MMCO) announced the creation of demonstration projects to support improvements in the quality and cost of care for Medicare-Medicaid enrollees ("dual eligible") via financial alignment between Medicare and Medicaid. The demonstration plans are named Fully Integrated Dual Eligible Special Needs Plans (FIDE-SNPs) or Medicare-Medicaid Plans (MMPs). In 2017, CMS released draft audit protocols for MMP designed to ensure compliance with State and Federal contractual requirements. The audit protocols for MMPs are similar to those for Medicare Advantage Prescription Drug (MAPD) plans, except for two program areas: Service Authorization Requests, Appeals and Grievances (SARAG) and Care Coordination Quality Improvement Program Effectiveness (CCQIPE).
On January 2, 2020, CMS released 2020 Draft Audit Protocols for both CCQIPE and SARAG and invites comments to be submitted by February 4, 2020.
For SARAG, most of the proposed changes (37 in total) are:
To reduce data burden for MMP sponsors (removal of some items in audit element III and Table 1–MCL), although CMS can request notes or other supporting documents as well as what was communicated to the member when the member's request is received telephonically.
Clarification of how SARAG program area audit performance affects the overall sponsor/ MMP audit score.
Clarification for compliance and universe accuracy standards (e.g., Audit Element I, Compliance Standard 3.2, universe testing from 11 to 9, 45 test cases instead of 55) and timeliness tests.
Removal of certain compliance standards (Audit Element II).
Removal of some required documents (Audit Element I).
To use the Medicare Beneficiary Identifier (MBI) as the member ID in all tables.
Clarification for inclusion (e.g. long-term services and support)/exclusion and format changes (field removal) for tables 1-11 (appendices).
To reduce the sample size for clinical decision making from 40 to 36, whereas samples for grievances are increased from 10 to 20.
To add documentation of member eligibility for aid pending appeal.
To send excel spreadsheets to the Health Plan Management System (HPMS) at the appropriate universe level with an explanation if it does not have responsive cases for the particular universe during the requested audit period.
The above are summaries of the proposed changes.
For CCQIPE, the proposed changes (7 in total) are:
Clarification of the 13-month review period that could span years depending on different versions of the three-way contract executed between the MMP sponsor, State, and CMS.
Clarification of how CCQIPE program area audit performance affects the overall sponsor/ MMP audit score.
Providing sponsors with multiple MMPs the option to submit QIPE universes as one upload to CMS.
Addition of a supplemental questionnaire to the list of background information MMPs are required to submit in advance of the CCQIPE review.
Providing samples to the MMP by the close of business on the Thursday before the week the MMP-CCQIPE audit begins (similar to the SNP-MOC audit protocol for MAPD plans).
Removal of compliance standard 3.1.8. from the audit protocol.
To use the MBI as the member ID in table I.
CMS continually recommends that plan sponsors practice data extraction for the audit universes prior to receiving notification of a CMS audit. Data extraction practice is more advisable when there are changes in format, inclusions, and exclusions. The final audit protocol for MMPs will be published after the comment period. If you have opinions on any of the changes being proposed, send your comments on the Draft Audit Protocols for MMPs to MMCOCapsModel@cms.hhs.gov using the provided comment template[1] by February 4, 2020.
If you would like help in navigating the changes and practicing universe preparation, Medicare Compliance Solutions has veteran specialists who have been supporting plan sponsors in CMS program audits, including MMPs, for over ten years. We are ready to help you before or when CMS beckons.  Call Shelley Segal at 562 334-7980 or Julie Mason at 415-596-5277. 
[1] MMPDraftAuditProtocolsCommentTemplateCY2020.xls
Yvonne Tso, Vice President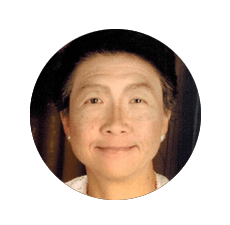 Yvonne Tso, Pharm.D., MBA, is a Vice President at Medicare Compliance Solutions. Yvonne has been in the managed care industry for over 10 years and advises health plans and investment firms on Medicare, Medicaid and managed care operational and compliance processes. Since 2005, the transition year prior to launch of the Medicare prescription drug program (Part D), Yvonne has supported drug plan clients in developing their formularies, competitive benefit designs, Star measure monitoring, utilization management (UM) guidelines and quality improvement (QI) programs.