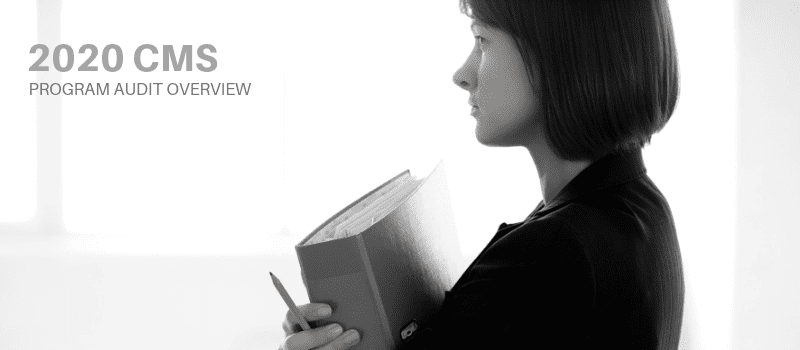 2020 CMS Program Audit Overview 
By Yvonne Tso, Vice President
First, some good news: as of August 25, 2019, if a sponsoring organization ("Sponsor") has not been notified by the Centers for Medicare & Medicaid Services (CMS) of an upcoming audit, it is safe to say that the Sponsor will not be subject to a program audit in 2019[1], although engagement letters for ad hoc audits may be sent at any time throughout the year. Regarding CY2020 audits, on August 16, 2019, CMS released the proposed revised audit protocol[2] for CY 2020 to begin the 60-day comment period. CMS provided a crosswalk for the changes, with some of the highlights listed below. Twenty-five (25) Sponsors (down from 40) are estimated to be selected for a program audit in CY 2020.
Highlights:
Compliance Program Effectiveness (CPE): Attachment 1A (the self-assessment questionnaire) is deleted.
Part D Coverage Determination Appeals & Grievances (CDAG):

Tables 9 (SIRE), 10 (EIRE) and 16 (Call Log) are deleted;
Samples for grievance review are increased from 10 to 20.

Part C Organization Determination Appeals & Grievances (ODAG):

Table 14 (Call Log) is deleted;
Samples for timeliness are decreased from 65 to 60 (dismissals no longer included);
Samples for clinical decision making are reduced from 40 to 35 (the 5 ODAG approval cases are removed);
Samples for grievances are increased from 10 to 20.

Special Needs Plan Model of Care (SNP-MOC): Enrollment Verification is removed.
Medication Therapy Management Program (MTMP) is removed.
With the release of the proposed audit protocol, CMS also provided estimates of hours that may be required to prepare for the audit (approximately 501 hours), at an average cost of $83/hour.[3] These are general references for "burden estimates". If a Sponsor has a vastly different cost structure and disagrees with this "average" estimate, there are 50+ days remaining for comments. Even if a Sponsor's burden estimate is higher than CMS', it is unlikely a deterrent for selection.
CMS has also changed the threshold for hiring an independent audit firm for validation.  Instead of more than five (5) conditions for all audit elements, the requirement is now 5 non-CPE audit conditions identified in the final audit report. As a result of this change, CMS estimates that the number of Sponsors that would be required to hire an independent auditing firm would decrease by approximately 11 percent, so that annually, 21 of the 25 Sponsors (82 percent instead of 93 percent of audited organizations) will be required to hire independent auditing firms. The estimated average cost for hiring an independent auditing firm is $150,000 in addition to Sponsor's "burden hours" for preparation and validation.  The estimates from CMS are useful benchmarks for a Sponsor to gauge its efficiency or lack of and for inviting requests for proposals from independent auditing firms. The benchmarks are especially helpful for Sponsors to assess their resource readiness before CMS beckons as data submission has a turnaround time of 15 business days, two business days for root cause analyses and ten business days for impact analyses.  The comment period is a window of opportunity for Sponsor input prior to finalization of the protocol, so there is no need to rush to re-program your data extraction codes yet, but being ready for a CMS audit at all times is the best policy.
CMS program audits are intended to target high risk areas that can potentially cause beneficiary harm. This focus is reflected in the increased number of grievances for both Part C and Part D due to misclassification of the call and missed coverage/organization determinations/redeterminations.  CMS attempts to audit each Sponsor once every 4 years. However, the frequency with which an audit occurs for a Sponsor can be based on a variety of factors, including the identification of compliance issues, referral for program audit, the size of the organization, and amount of time since last audit.
We, at MCS, stand ready to assist Sponsors to adjust and adapt to any CMS regulatory, policy, and process changes. Please contact Shelley Segal at 562-334-7980 or Julie Mason at 415-596-5277 to learn how we can help your organization to be audit ready at all times.
[1] HPMS memo November 2019 Program Audit Process Overview
[2] CMS 10191 Part D Protocol PRA
[3] Supporting Statement Part A

Yvonne Tso, Pharm.D., MBA, is a Vice President at Medicare Compliance Solutions. Yvonne has been in the managed care industry for over 10 years and advises health plans and investment firms on Medicare, Medicaid and managed care operational and compliance processes.