Auto-assigned and facilitated 2019 enrollments began processing in October 2018.
Is your 4Rx data compliant with CMS?
By Michelle Ford, Vice President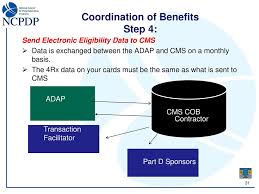 In September 2018, CMS released the processing schedule for CY 2019 enrollment transactions and reminded sponsors that CMS is monitoring 4Rx data for timeliness and completeness. Part D sponsors must have effective internal controls to ensure that 4Rx data is submitted and accepted by CMS within the required timeframe. Failure to submit 4Rx data is resulting in warning letters.
What is 4Rx data and what are the requirements?
All plan-submitted enrollment transactions to the MARx system must include 4Rx data which is the RxBIN, Processor Control Number (RxPCN), Group ID (RxGRP) and Cardholder ID (RxID).[1] For CMS-generated enrollment transactions, Part D sponsors must submit a 4Rx Record Update (Transaction Code 72) within 72 hours of the sponsor's receipt of the Transaction Reply Report (TRR).[2] Sponsors must meet a 99% 4Rx completion standard to be compliant with their obligation to process enrollment requests in a timely manner. CMS-generated enrollment transactions include auto-enrollments, facilitated enrollments, plan rollovers, reassignments, and user interface transactions. While most of the CMS-generated enrollments are for Medicare Prescription Drug Plans (PDPs), Medicare Advantage Prescription Drug Plans (MA-PD) may also receive some of these transactions throughout the year.[3]
In an HPMS memo dated April 9, 2009, CMS announced its plan to post a report in HPMS that indicates the timeliness of Part D sponsors in submitting 4Rx-related change transactions for CMS-generated enrollments. The goal of the 4Rx timeliness report is for CMS and sponsors to track the extent to which Part D sponsors have at least 99% of 4Rx-related change transactions successfully accepted within 72 hours by CMS. Part D sponsors should review the 4Rx each month.[4]
The TRRs with auto-assignees and facilitated 2019 enrollments were sent to sponsors on or about October 17, 2018.[5] If your contract is not meeting the 99% completion requirement it may be on CMS' radar.  Medicare Compliance Solutions has an experienced pharmacy staff that can help keep you on track with your 4Rx data reporting so that you can be sure you are meeting the 99% 4Rx completeness requirement. Contact us if you have questions about the 4Rx data requirements.
---
[1] Prescription Drug Benefit Manual, Chapter 14-Coordination of Benefits, Section 50.1
[2] Id.
[3] HPMS Memo, April 9, 2009, Report on Timely Submission of 4Rx Related Change Transactions.
[4] Id.
[5] HPMS Memo, September 21, 2018, 2019 Reassignment of Low-Income Subsidy Beneficiaries in Prescription Drug Plans.